• June 28, 2009: A nice short interveiw with James about Philanthropist. Poor dear with all of his injuries and it's so nice to feel his excitement over the show. :) (click here)
• June 25, 2009: Nice lengthy interview with James and Tom Fontana about Philanthropist. (click here)

• June 23.2009: Another NEW Interview with James about Philanthropist (click here).
• Another great NEW Interview with James about Philanthropist (click here).

• NEW Interview with James about Philanthropist (click here) Yay! :)

• Brief mention of James in this article for The Philanthropist: (click here)
"Sameer loved being on set, said his father, and soon became good friends with co-actor Purefoy. He also plays tennis, swims and participates in monkeynastics, but wants to be an actor when he grows up." So sweet! :)
• James comes to the aid of S. Africa's street children (click here)
Not at all surprised knowing how wonderful James is. :)
• May 8, 2009: A bit about Patrick Teoh, who plays a villain opposite James in The Philanthropist. http://www.star-ecentral.com/news/story.asp...

Patrick Teoh and James Purefoy posing for the camera. Purefoy's character meets his nemesis in the ruthless Myanmar general (played by Teoh), in The Philanthropist.
And another great pic on his blog here...
• April 20, 2009: Script review of Solomon Kane film (WARNING SPOILERS) Very nice review. Can hardly wait!!
http://www.filmbuffonline.com/ReadingRoom/SolomonKane.htm
• April 10, 2009: Solomon Kane is ready for theaters...maybe October? :D
http://www.majorspoilers.com/archives/13060.htm/
• April 8, 2009: James gets advice from Brit actor pals in US productions. Thanks Sheila. :)
http://www.nbcphiladelphia.com/news/entertainment/James_Purefoy_Gets_Advice
• April 6, 2009: Blog entry about James & Diamonds, very nice!
Thanks Redhol2000.
http://jamesbawden.blogspot.com/2009/04/diamonds-in-rough.html
• April 2, 2009: Wandering Star on the REH forum has such nice about James' as Kane and the film in general. And, it seems soon we'll be hearing more about a release dade, HOPING!!Thanks Redhol2000 for posting to the jP yahoo group.
http://www.conan.com/invboard/index.php?showtopic=4156&st=560

"James Purefoy has without question delivered an extraordinary Kane, he put in months of training and i was impressed to say the least how he went about creating the character, gaunt and all! I think your going to love his performance all round. We have been blessed.
We wrapped the film on Friday and i am going on holiday for a weeks skiing with the kids. The Prints are rolling out the door next week ready for your eyes and ears!
The end credit sequence was holding us up a little but now its done it was worth the wait.....its terrific. Feeling quite emotional after all the many years work.....is it 12 or 13 or maybe even 14 since the idea first came to us!" [Emphisis added]
• April 1, 2009: ABC has acquired Diamonds, and it may be airing sometine this year in the US! YAYYY!!!
http://www.televisionaryblog.com/2009/03/channel-surfing-friday-night-lights.html
• March 13, 2009: NEW Pic of James while filming Philanthropist, from the Washington Post! Thanks to Teresa for sending this! :D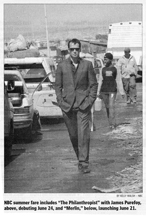 Click image for larger view - Mr. P... Lookin' GOOOOD!
• March 12, 2009: NBC Heats Up Summer lineup... from Television Week - Detroit,MI,USA
As for scripted series, "The Philanthropist," starring James Purefoy, will air Wednesdays at 10 pm (with a "Talent" lead-in) beginning June 24. ... Ok, so what's a "talent" lead-in???This is gonna ROCK!! :P
• March 12, 2009: Diamonds will air on Canadian TV in April click here!
• A blurb, photo (YUMM) ...and upcoming trailer soon... posted at NBC.com!!Thanx Redhol2000)

I don' t think insanely giddy quite covers it! ;)
• Lord Richard Attenborough in Ironclad (Telegraph.co.uk) - I'm absolutely loving the cast! [Ironclad] is described as "an ultra-violent medieval action thriller"
• James Lures Youth to Live Theater (This is London)) - Very Cool!!
Rupert Penry-Jones and Sheridan Smith today launched a £2.5 million scheme to get young people into theatre. The star of Spooks and the actress from Two Pints Of Lager And A Packet Of Crisps kick-started A Night Less Ordinary which will give away more than 500,000 free tickets to under 26-year-olds. The scheme was unveiled at the Donmar Warehouse. It is being organised by Arts Council England with extra money from the Department for Culture, Media and Sport.
...James Purefoy said: "Live theatre is like a secret you want to share - exciting, involving and different every time you tell the story. The beauty of this is that you can try different shows on for size and see what suits best, for free."
• Feb. 7, 2008: Looks like Ironclad is amassing a fine cast and crew!
(SG1 Blog-ContentFilm)
• Feb. 6, 2008: Ironclad news! (Screen Daily - Total Film - Empire)
Seems James is still involved I really hope so!! Glad they got financing and seems they plan to start filming this summer! :D
• February 2, 2009: A bit about the Kane trailer from Michael Bassette's Blog...
He recently visited LA and met with some execs there. Here is what he said about it:
"The main business of the trip was executed as well as it could be. A pitch to one of the studios for a new project. I love pitching; just going into a room full of execs and telling a story. Oddly this time I was nervous probably because I was doing it for the studio head and his team but once I was in the room it all came together. I did a bunch of meet-and-greets with other execs at various studios. Some of this was because I know they're developing projects I'm really interested in. So for these big fish, my bait was a little sneak peek at a 90 second teaser for Kane. Happy to say they were universally blown away by how it looks. Of course, a trailer can make anything look good, but still… nice to have such a powerful reaction. There's a real appetite for this film. It is so different from traditional fantasy fare."
I know I've said it before but, Dang It!! I CAN'T WAIT! :
• Jan 15, 2009: NBC's 'Philanthropist' might debut this spring... (read more) Also it's great to read that James' hamstring is all healed up and filming can commence! (read more)
• Jan 12, 2009: Episode 5 of the Philanthropist needs actors...
(thanks redhol2000)
This will be filmed in Prague in February and the casting director is looking for actors for it
http://nancybishopcasting.blogspot.com/2009...
TV SERIES: THE PHILANTHROPIST, EPISODE 5
STARRING James Purefoy
NBC, Carnival, Stillking
Director: John Strickland
Shooting in Prague: 2-10 Feb, 2009
SYNOPSIS: Teddy Rist is a renegade billionaire who uses his wealth, connections and power to help people in need. In this episode Teddy attempts to build a new factory uniting Serb and Albanian workers in
Kosovo.
ALL Roles speak English (except Old Serb) and actors need to be BE ABLE TO WORK LOCALLY IN PRAGUE.
JOVAN PEROVIC, LEAD. 40s-50s. Orthodox Christian Serb. Fit, sharp, focused.
FATHER TOMOR TOPANI. Lead. Serbian Priest, 30s. Genial, fatalistic, good-humored
GENTA COBAJ, LEAD. 30s. Albanian Muslim, beautiful woman.
IMAM HASIM HASSAN. LEAD. Muslim Cleric.
MILOS. Perovic's adopted son.
• Dec 30, 2008: You might find this interesting, the 2009 Theatrical Releases list... Scroll down to find Solomon Kane in the To Be Announced list.

• Dec 26, 2008: Ironclad still on?(click here: pg 2 paragraph 3-in Spanish). This is interesting since James is no longer listed in the cast on IMDB.com.
Page 2 paragraph 3:"Tengo una cinta para la primavera del año que entra, se llama Ironclad, y se trata sobre la Carta Magna, la filmaremos en Berlín, durante tres meses, y tendrá actores muy interesantes como Richard Attenborough, Paul Giamatti y Bob Hoskings, será muy divertido, James Purefoy la protagonizará", ahonda Moseley, quien actualmente toma clases de literatura en Londres."

Translated by Patri of JamesPurefoy.es (THANKS): "I have a new film in Spring of next year; its name is Ironclad and it's about the Magna Carta. It will be filmed in Berlin for 3 months and will have very interesting actors such as Richard Attenborough, Paul Giamatti and Bob Hoskings, it will be very fun, and James Purefoy will be the leading man." says Mosely, who is taking classes of Literature in London."
• Dec. 2008: Latest Philanthropist news:
-David Eick Departs 'Philanthropist' For 'Caprica'
- Fontana returns to 'Philanthropist'
• Dec, 24, 2008: Please visit the Solomon Kane page for the latest Bassett blog entries and REH forum posts and more.

• Dec, 1, 2008: Possible Rome movie news:
Wonder if they'd cover any Mark Antony stuff they skipped over...
http://www.monstersandcritics.com/smallscreen/news/article...
• Nov. 17, 2008: Philanthropist saves money filiming out of London: http://www.variety.com/article/VR1117995985.html?categoryid=14&cs=1
• Nov. 4, 2008: Some musical score news for Solomon Kane. Click here
• Oct. 30, 2008: We've all been wondering what James has been up to over the past couple of months. Well, here's a bit about The Philanthropist: "...The network brought in "Battlestar Galactica's" David Eick to run the show and has hired Peter Horton to direct the first episode, which has been filming in London, South Africa, and the Czech Republic..."
Read the entire article here:
http://latimesblogs.latimes.com/the_big_picture/2008/10/are-the-worlds.html
• James makes an appearance at Bumpkin restaurant launch. WireImage.com (search "James Purefoy")(thanx Lori!)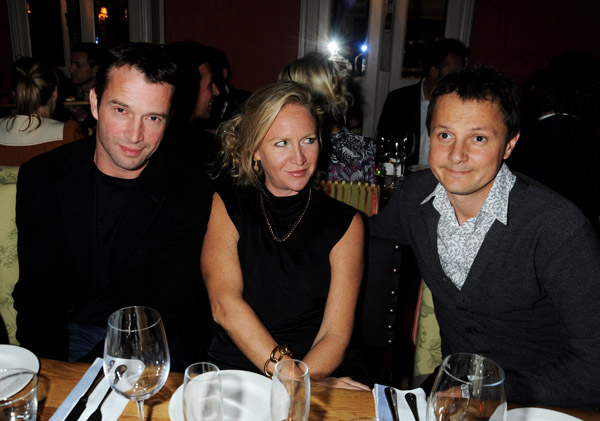 Image courtesy of WireImage.com. The man is lookin' SO DAMN GOOD! Sighhhhh...
• October 20-22, 2008... Some great Kane info to wet our appetites!
The REH Forum click here. Thanks Redhol2000 for posting to the JP Yahoo group!
• October 18, 2008 A little mention of Solomon Kane from an actor who appears in it with James.http://www.mediablvd.com/magazine/the_news/celebrity...
"I played Edmund in King Lear and there were several fights in that. So, all of last year, I was sword fighting. And then, I finished off that year by doing a film, called Solomon Kane, which had another bit of sword fighting. I really enjoy that part of the work." - Philip Winchester
• October 3, 2008 Jesse L. Martin, of Law & Order may join The Philanthropist!
RTE.ie • HollywoodReporter • C21Media
• September 27, 2008 NBC finally confirms James' casting in The Philanthropist!
http://www.tvweek.com/news/2008/09/nbc_sends_philanthropist_abroa.php
• September 26, 2008 Most current Philanthorpist news: Production in the UK.
Click here & here. the first news bit says it's produced by ABC... I'm thinking that's a typo.
• September 16, 2008 Here's a tidbit about the Solomon Kane comic with a brief mention of James toward the end. Not much but I'll take anything at this point! ;)
• September 12, 2008 Will Solomon Kane be released this Dec? Here's a link, but I can't get it to work for me. The site is in German. Thanks Lori for sending this. I REALLY hope it's true!
http://www.tellusfilm.com/filminfo.php?id=120005181
• September 11, 2008 James recently made appearances at the Buddah Bar and the Serpertine Gallery. Thanks kaia0120 for posting these to the forum.


Lookin' as adorable as ever! More at Getty Images...
•August 4, 2008 NBCs The Philanthropist Eyes Foreign Money.NBC is looking for a foreign member of a partnership to projection half the cost of the midseason drama, about a renegade billionaire who uses his wealth, connections and power to help people in need no matter the risks or costs. British actor James Purefoy (Rome) is in talks towards the lead role.
http://reviewsmovie.wordpress.com/2008/08/04/nbcs-philanthropist...
• July 23, 2008 James attended the Batman: The Dark Knight premiere in London! ...and he's lookin' GOOOD!!
http://www.gettyimages.com/Search/Search.aspx?contractUrl...
• July 21, 2008 James in negotiations to star in The Philanthropist for NBC!! Oh, this sounds great! Sad that it seems The Saint won't be coming to pass now, but hey, this sounds excellent and not likely to fall apart like The Saint did.
http://www.reuters.com/article/peopleNews/idUSN21215620080721
http://www.comingsoon.net/news/tvnews.php?id=47037
• July 13, 2008 New Solomon Kane comic to be released in Sept 08!! YIPPEE!!
http://www.popcritics.com/2008/07/solomon-kane-comic-coming-in-september/
• July 11, 2008 Beau Brummell on DVD! Visit our James Amazon Shop to buy your copy!

Here's a nice little review with some great and very accurate compliments of James: http://www.film.com/dvds/story/dvd-beau-brummell-charming-man...
• July 8, 2008 James attended another Imogen Jones book launch! (Thanks Redhol2000)
Tuesday, July 08 2008: Imogen Edwards Jones - book launch party - celeb update Trafalgar Hotel, 2 Spring Gardens, London, SW1, 6.30pm Imogen Edwards-Jones, Jamie Theakston, James Purefoy Pearl Lowe, Simon Sebag Montefiore, Claudia Winkleman, Wendy Holden, Nicky Haslam, Kirsty... Author of the Babylon book series is joined by VIPs to celebrate June 30 publication of Pop Babylon, a fictional insiders' guide to the music industry... NEW Getty Images Here: http://www.gettyimages.com...

• Pop, Fizz & Sparkle, the Pop Babylon launch goes with a bang! http://www.between-the-lines.co.uk/?p=96
That face - just adorable!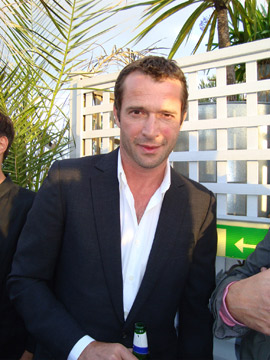 (click image larger view)
• The Prince and The Pauper will air on UK TV Friday 18th July 1:00pm - TCM (Digital) 7pm on TCM 2
Synopsis: When the youthful heir to the British throne meets a street urchin who looks remarkably like him, the mischievous pair decide it would be great fun to trade places. However, after the boys swap identities to fulfil their wishes for a different life, they find the grass is not always greener on the other side. Adaptation of Mark Twain's classic novel, starring Phillip Sarson, James Purefoy... (Thanks Redhol2000)

• June 30, 2008: Iron Clad will be filmed in Berlin. It is mentioned in the interview at the link below. (thanks redhol2000)
http://www.indielondon.co.uk/Film-Review...
• June 29, 2008: Some news about Solomon Kane being filmed in Devon (thanks redhol2000)
http://www.telegraph.co.uk/property/main.jhtml?xml=...
• June 25, 2008: Images from The Summit! (Thanks Annie)
• June 23, 2008: Interesting blog spot to keep an eye on (thanks redhol2000) http://celluloidandcigaretteburns.blogspot.com...
• June 19, 2008: James was at the premiere of The Edge of Love at the Berkeley Hotel. London, England - and OH... You gotta go see the pics at JamesPurefoy.es!!! Goodness... what a beauty he is!! **GUSH**
You can also read about it here:
http://ukpress.google.com/article/ALeqM5hmYcg1e7c2ltsz_tpn6LViLvyuiQ
http://www.contactmusic.com/photos.nsf/main/james_purefoy_1930280
http://uk.popsugar.com/gallery/541598?page=0,13,0
Thanks to everyone who sent this news.
• May 2008 Entry: - NEW Scrapbook entry for SOLOMON KANE...(thanks Liz!)
..."James P as Kane is very impressive and the supporting casting are no slouches either. From a character and acting perspective, this thing is pure gold. The sword fights are tricky to cut as I want to try and make each one feel a little different from the last - and each one is justified from a character point of view, which informs the nature of the combat. Besides, James went to such lengths to learn the full choreography for these things that it is unnecessary to cheat anything by fancy cutting - I'd rather just let the scene play and enjoy the skill and agility of the hero."... -Michael Bassett
More on our Solomon Kane page and at: http://www.michaelbassett.com/pages...
• May 17, 2008: Ironclad! A new project James is in negotiations to star in! Here's more info! This sounds PERFECT for him!
http://www.hollywoodreporter.com/hr/content_display/news...
• May 12, 2008: Lots of loyal fans sent the link to this news! James in a new period role "Heaven & Earth" YAYYY!!
http://www.variety.com/article/VR1117985478.html?categoryid=13&cs=1
• 2008 - The year of SOLOMON KANE... (thanks Patri!)
Principal photography is completed on Kane. Now for the long-haul of post-production to get it all into shape. James Purefoy is simply amazing as Kane and so much of what's needed for the film is already in place and looking quite wonderful. The character has been set up really well for the next adventures which, I'm sure, will tap more completely into Howard's original stories. There's a huge amount to be done to make sure it runs on time and tells a compelling story but despite my exhaustion I'm very enthused and confident that there really hasn't been anything like this before.
And, just a little fact for you real Kane fans; the final scenes of the film were shot in England on the North Devon coast. It was all done on a private estate which used to belong to the real Sir Richard Grenville.... cool huh? http://www.michaelbassett.com/pages/layout.htm
• April 10, 2008: Looks like we'll be able to get Diamonds on DVD at some point! YESSsss!
http://www.worldscreen.com/newscurrent.php?filename=alchemy041008.htm...
• April 9, 2008: Redhol2000 posted a link to Cannes magazine with a small pic of James on pg 45. http://pvevent1.immanens.com...
• April 7, 2008: According to this article, James will be in Cannes to promote Diamonds.
http://www.chinapost.com.tw/life/discover/2008/04/07/150793/Ads-global.htm
• April 7, 2008: And here's a short writeup about The Summit posted to the JP Yahoo group by Redhol2000. http://www.brucegreenwood.com/mov-tv/summit/index.html
• April 3, 2008: Very interesting art and models from Solomon Kane, posted by Redhol2000. I LOVE the look of these!
http://www.cilecek.com/sculptural-work-for-movies-of%20-jan-cilecek/3/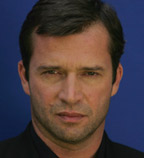 Luscious Lucas! THUD! (click for large image)
• April 2, 2008: Thanks to Lynne for sending the link to the Diamonds trailer! Oh, I SO can't wait for this!!! :D
http://www.alchemy.tv/main/production_details.php?production_id=11
And here is an Alchemy Newsletter (PDF) link with Diamonds info posted on the Purefoy yahoo group by Redhol2000 (Yummy pic of James):
http://www.alchemy.tv/uploads/files/newsletters/Newsletter_Apr_2008.pdf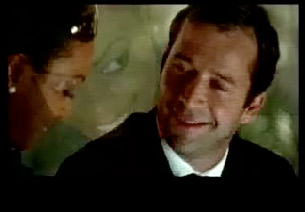 Snapshot from the trailer! Mr. P's looking sooo scrump-a-dilly-umptious! ;)
• March 28, 2008: NEW Solomon Kane News!!! James... with a shaved head and "...a livid scar on his forehead - the result of a sword fight with a mighty big stunt guy." "'Five stitches!' Purefoy laughed..." OMG! Our boy has another scar!
http://www.dailymail.co.uk/pages/live/articles/showbiz/bazbamigboye.html
• March 16, 2008: Thanks to Reveuse for posting some new Summit news on the forum. Even a poster! YAY! For some reason the link won't translate. Sorry guys. Visit the forum "News and Updates" section for the link. The photos are still not showing on their site as of Easter sunday.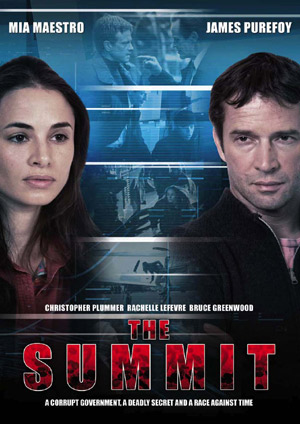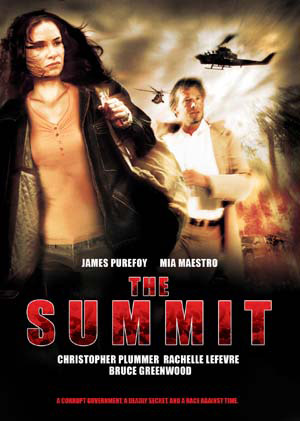 • March 10, 2008: LOADS of online news bits came in today about The Saint. Seems now it's finally been confirmed. James will star in the 2 hour pilot (BBC/HBO) for US TV and then the show will be touted for a regular series. later this year. Here are a few links. :D
http://www.inthenews.co.uk/entertainment
http://tv.ign.com/articles/858/858130p1.html
http://www.zap2it.com/tv/news/zap-newversionofthesaint,0,3495623.story
http://www.tvsquad.com/2008/03/10/the-saint-is-coming-back-to-tv/
• Feb 9, 2008: Finally an update to Bassett's site about the filming of Solomon Kane!! (thanks Teresa) http://www.michaelbassett.com/pages/stuff.htm
"James Purefoy is a delight to work with; he is giving his heart and soul to this. He's in brilliant physical shape and his sword fighting is just brilliant to behold and he's finding depth and sophistication within the character in ways I really hoped he would. " -Michael Bassett

No surprise there! James always give it his all and with his grace and the power he always radiates, well, he's going to be a real beauty to behold in this role! Thanks Michael for posting this!! We're all giddy with excitement!! :D
• Feb 7, 2008: Solomon Kane part of Berlin film festival. (thanks reveuse)
http://www.hollywoodreporter.com/hr/content_display/international/news...
• Feb 6, 2008: Hungry for any news, so here's a tidbit about The Summit.
http://www.hollywoodreporter.com/hr/content_display/news...
• Jan 23, 2008: Heath Ledger Dies at 28. So tragic. :(
http://www.showbizspy.com/2008/01/23/heath-ledger-dies-aged-28-update/
• Jan 13, 2008: TV review: Roman gods must be laughing.
Some great quotes here!
"Your son will eat shit and die before he is recognised [as legitimate]," Antony says to Cleopatra of her son, the offspring of the recently offed Julius Caesar. This passes for flirting at the ramparts of what other writers and historians have always encouraged us to believe was one of the great passionate love stories of history. If Antony was anything like this – played with handsome bastardly-ness by James Purefoy – we're talking major love rat. He's a real charmer.\
"I've had a pig of a day," he remarks to Atia in the spa bath that night. "Running this city isn't as amusing as I thought." More here: http://www.stuff.co.nz/4357220a1869.html
• Jan 11, 2008: The Summit Release Date (Canada). Thanks Ruth!
Let's hope this is going to be released elsewhere too! PLEASE!
http://www.imdb.com/title/tt1114706/
• Jan 9, 2008: SOLOMON KANE CAST REVEALED:
Fabulous cast!!! Love everyone to bits! :D
http://movies.ign.com/articles/844/844384p1.html
http://www.variety.com/article/VR1117978703.html?categoryid=19&cs=1
http://www.ropeofsilicon.com/article/solomon_kane_cast_fills_out
http://www.moviehole.net/news/20080109_vets_get_the_kane.html
• Dec 31, 07: A couple of nice links about Solomon Kane. Thanks Ruth!
http://www.essential-ent.com/films.aspx?projectid=a0d4ebf1-86b6-494e-81a5-2300686844e8&index=4 & http://sneakpeektv.blogspot.com...
• Dec 28, 07: Production Charts for Solomon Kane. Thanks Ruth!.
http://www.productioncharts.com/charts/2007/12/solomon-kane.html
• Dec 1, 2007: A nice review of the Dr. Who audio episode, "Son of the Dragon". http://www.computercrowsnest.com/articles/books/...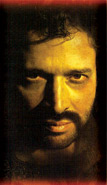 James as Vlad Dracula in Dr. Who Audio Series!
Dr. Who New Audio Adventures
"Son of the Dragon"
Click here order your Double-CD set Now Available!
Click here to read our review!
• A little about SK at obsessedwithfilm.com
http://www.obsessedwithfilm.com/movie-news/poster-solomon-kane.php
I think people need to understand that Van Helsing, being a rip off of Solomon Kane, had a certain look to his costume, and there is really no way around that when staying true to THE ORIGINAL character. It will take this film coming out to prove it is NOT a revamp of VH. I have faith that this will be fabulous and satisfying in a way VH didn't even come close to. And not only that, but be an entirely DIFFERENT experience from VH. But unless you're familiar with the original SK stories, there is no way you can realize that there are certain elements that will be familiar. It's just too bad VH keeps coming up with this film. I highly recommend reading the stories to get a good idea of where this film will be coming from and try to put VH out of your minds. ~Nada
• Lovely photo of James on the set of Rome with two adorable little actresses.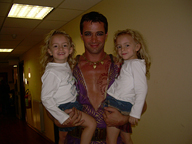 Click photo for larger view.
Our pal Claudia of PollyWalkerOnline.com sent us this gorgeous photo of James on the set of Rome with two darling young actresses from the show. Their mother, Mariana, gave us permission to post the photo here. The girls each played Mark Antony's daughter in the last episode. Thanks SO much Mariana and Claudia for sending us this pic. It has to be one of our very favorites of James ever! :D
• Nov 22, 2007: A little bit about Rough.
http://www.playbackmag.com/articles/magazine/20071029/rough.html
• Nov 9, 2007: NEW promo poster for Solomon Kane posted in Conan.com Forums! Thanks to Redhol2000 for finding this and letting us know in our message board.
Visit our James Purefoy message board to see this GORGEOUS poster! As soon as it's officially released I will post it here on the site.
Also be sure to visit The Official Robert E. Howard site to see the poster in its original post.
• Information about The Summit being filmed in Canada:
Thanks Hollis for sending us this!
http://www.newswire.ca/en/releases/archive/November2007/07/c5042.html
Excerpt: "As Canadian Prime Minister Adderly (Bruce Greenwood - Thirteen Days), U.S. President Aimes (Christopher Plummer - A Beautiful Mind) and other world leaders gather to meet at the G8 Summit, Leonie Adderly (Rachelle Levefre - Life on Mars), grad student and daughter of the PM, and Columbian union organizer Maria (Mia Maestro - Alias) are preparing to release an explosive documentary about the conditions of the Columbian flower industry.
Meanwhile, a U.S. military-engineered strain of smallpox is smuggled into Canada and finds its way within the walls of the summit. With leading CDC investigator Dr. Thom Lightstone (James Purefoy - Rome), U.S. Chief of Staff Ellie Bruckner (Wendy Crewson - ReGenesis), head of the U.S. Black Ops, Tate (Stephen McHattie - 300), and reporter Rebecca Downey (Lisa Ray - Water) on-site, a search gets underway for the bio-terrorist before the results turn deadly." Mmmm, Dr. L.ightstone, eh? Can't wait! ;)
• Nice article about Rough/Diamonds:
http://www.filmmaker.co.za/readarticle.php?article_id=1477
• Looks like James is in negotiations for a new film "Stand Well Back" to be released next year. Thanks Billie for posting this to the forum! Here's the IMDB link: http://www.imdb.com/title/tt0997100/
• Oct. 24, 2007: A few news links about James various upcoming projects.

http://www.inthenews.co.uk
http://www.sundaymail.co.uk
http://www.daventrytoday.co.uk
http://www.itv.com
http://www.gfo.co.za (photo of James here)
http://itsmemorabletv.blogspot.com
http://www.a2mediagroup.com
Thank you to all who are keeping up with these things in the various groups and forums, and those who have emailed me directly. I hope you don't mind my posting the links here for any fans who might not have caught them yet. I have just had dental surgery so been a bit out of sorts for a few days. Will get back into things as I start feeling better. ~Nada
• Oct. 22, 2007: Write-up for Frankenstein.
Excerpt: Handsome, intelligent and deeply flawed, Clerval also works within the field of stem cell research. But where his ex-wife conducts her research for the public sector, his motivation is purely monetary and results are handed over to the private sector. Still harbouring a deep love for his ex-wife, he is genuinely concerned for Victoria and their terminally ill son; she feels, however, that his interest stems from a desire to sell her findings to the highest bidder and rejects his pleas to help her. More here...
• Oct. 21, 2007: Interview with James for Frankenstein.
Excerpt: "I play the part of Dr Clerval. He's a specialist in stem cell research, and runs and owns a large biotech company. He is very much in the private sector, is very wealthy and, rather worryingly, has unusual and strange contacts within the security and intelligence communities." - James
And don't miss the preview (if you can view it, sadly I can't.) Preview and brief writeup
here at iTV.com
• Oct. 20, 2007: Mothering a Mutant - A Nice little article about Frankenstein. Telegraph.co.uk
• Oct. 12, 2007: Frankenstein Preview on ITV (UK & PC viewers only - DARN it!) http://www.itv. com/Drama/ default.html
Thanks Holly for posting on JamesPurefoy2 Yahoo Group! Sure wish we could all view it. Sighhh...
• Oct. 12, 2007: Interview With James for Frankenstein in Marie Claire UK! If anyone can get me a copy of this please email me!!!
MarieClaire.co.uk Thanks Holly for posting this on the JamesPurefoy2 Yahoo Group and to Brandywine for finding it! Great interview! James is so funny! :P
• Oct. 10, 2007: Click to View The Diamonds Sales Sheet
Sales Sheet for Diamonds
• Oct. 8, 2007: A Bit About Diamonds (Rough) Filming in South Africa
http://allafrica.com/stories/200710080895.html Excerpt: "Ruthless Lucas Denmont (James Purefoy) is heir to his family's once mighty, but now faltering, diamond conglomerate. Voracious and desperate to restore the business to its former glory, Denmont will stop at nothing; a stunning British model (Louise Rose) with roots in West Africa is recruited as "the face" of the Denmont diamond - and Denmont's 'diamond girl'- when she and Lucas fall deeply in love." More...
• Oct. 3, 2007: A bit about Diamonds from Alchemy.tv!
Derek Jacobi is one of our favorite actors, so seeing him in a project like this with James is so exciting! Diamonds is really is going to be fabulous!!! Thanks Ruth for sending this link.

• Oct. 2, 2007: NEW Miniseries (UK) Purefoy to star in The Summit!!
From: TheStar.com
New Mini: Robert Cohen reports he's producing the new miniseries The Summit for CBC and Global. Shooting in town and Hamilton through October, the cast of the Shaftesbery Films production set before a G8 summit includes Christopher Plummer, James Purefoy, Bruce Greenwood and Mia Maestro. Thanks Hollis for giving us the head's up!
• Oct. 1, 2007: Purefoy to star in Solomon Kane!!
ScreenDaily.com announced: "James Purefoy has been cast in the lead on Samuel Hadida's upcoming comic book adaptation Solomon Kane. Following what the producers called "an exhaustive search", they have finally found the man to play the eponymous 16th century soldier and Puritan." Read more here.
Here is a link with more information about the production. Click on "Solomon Kane" in the left panel. http://www.michaelbassett.com/pages/layout.htm Thanks Sheila for sending this to us!! This is FABULOUS NEWS! :D

• Sept. 15, 2007 - A Blog Review of Son of the Dragon Nice excerpt here: "James Purefoy is the guest star of this story and he is given a starring role. ...Purefoy's presence is what stands out in this story. The way that he portrays Count Dracula is absolutely fantastic, his nice side and nasty rather gruesome moods are what strikes you most about the role. The way that he is willing to punish or torture someone without a moment of hesitation was quite similar to most bad guys in Doctor Who but yet is somewhat better than all of them. His role in the TV show Rome was Mark Anthony who was a man who did what he wanted to do and was able to snap for no reason but at the same time he manages to make the character of Dracula likeable. I had high expectations of James Purefoy from the moment that I found out that he was going to be in Son of the Dragon and I have to say that I wasn't disappointed."
Here's the link: http://tomstardis.blogspot.com/2007/09/blog-25-son-of-dragon...
• Sept. 12, 2007 - Another little snippet about Diamonds
Here's the link: http://www.movieweb.com/tv/news/79/22679.php
• Sept. 10, 2007 - A small update about the current production of "Diamonds" (formerly "Rough")!
Here's the link: http://www.alchemy.tv/main/production_details.php...

And here's another link: http://www.c21media.net/news/detail.asp...
We are just dying to see James' portrayal of the "ruthless" Rupert! Goodness but is he gonna be SMOKIN' in this role or what!!! Thanks Ruth & Holly!

• A German article on Frankenstein at MonstersandCritics.com!
GOOD LORD what a GORGEOUS pic of James!! Can't read the thing, but that pic is a good enough reason to visit the link even if you don't speak German. Thanks Ruth!!!

Swoooooooooon.....
Mmm, he seems rather miffed... YUMMMY!
Lookin' freakin' HAWT in those snug slacks too. THUD! ;)
• ITV1Magazine has the very first mention of Frankenstein!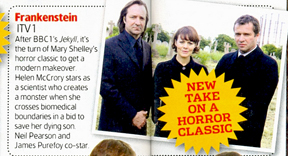 Click image for larger view
• James interview in the latest issue of TV Zone Magazine!
There are several pages on Rome and an interview with James, as well as photos. You can order your copy here: http://www.visimag.com/tvzone/t219_display.htm
• Aug. 22, 2007 - US DVD Release of A Dance to the Music of Time
Here is an excerpt of a nice review from blogcritics.com:
"James Purefoy (he played Reese Witherspoon's army officer husband in the movie Vanity Fair and the Prince Of Wales in A Knights Tale) has the unenviable task of playing the ultimate straight man, Nicholas Jenkins, through whose eyes we see the whole story. He does a fantastic job of actually finding ways of expressing character in what is essentially a plot device around which all the other characters revolve. A lesser actor could never have accomplished what he did given what little he had to work with (my one complaint with the production is that they replace him for the last reel with an older actor who is nowhere near as accomplished – I wish they would have simply aged Purefoy as they did with other actors)." More...
• Aug. 20, 2007 - James' Radio Play: A Coup
A Coup will air on BBC Radio 4 on Sept 28th at 2:15 (UK time I think). Thanks holly. And thanks to Ruth for this link with an excerpt from the play:
http://www.fictionfactory.co.uk/ACOUP-details.htm. Once the play airs you can visit this link: http://www.bbc.co.uk/to listen afterwards. If anyone can record this let us know. We'd love to get a copy!
Also, Holly send us this link with a VERY brief little snippit of James talking about how great Lawrence of Arabia is. He is about 3/4 of the way into the video. http://www.bbc.co.uk/britishfilm/summer/documentary/costume_drama.shtml
She posted this bit about the Beau Brummell page on BBC America too!
http://www.bbcamerica.com/content/227/index.jsp Very cool!!
• Aug. 15, 2007 - Production Notes on Rough Starring James!
http://www.alchemy.tv/uploads/files/production_notes/Rough_Prod_Notes.pdf
• Terribly Sad News!: Rome Set Destroyed by Fire...
ROME (Reuters) - Fire ripped through a section of Italy's famous Cinecitta film studios late on Thursday, partly destroying the set for the HBO television series "Rome." (More...)
Thank you Patri for letting us know. We are so sad to hear about this. Bad enough that the series is over but this really makes it feel final. :(
• August 8, 2007 - Rome's Purefoy to star in Bruce Chatwin radio play for BBC 4 Radio Rome star James Purefoy is to feature alongside Royal Shakespeare Company member Ben Onwukwe in a new play for BBC Radio 4 based on the memoirs of travel writer Bruce Chatwin. Click here for the full article.
Thanks so much Hollis for emailing us about this!
• August 8, 2007 - A bit about the Rome 2 DVD Release...
Can't wait for James' commentary!!! YAY! Here's a snippit from the article: "Also of note is James Purefoy's devilishly keen insight into the series' production. Having done extensive preparation for his role as Mark Antony, James Purefoy muses in his audio commentary about the kinds of drugs that might have been used during Antony and Cleopatra's decadent reign and how Cleopatra might have been the source of inspiration for Madonna's cone shaped bra. "As you can see, …[here is] Lyndsay Marshal sporting a very early version of that famous Madonna outfit," Purefoy comments. "See, there is nothing such as originality, is there really?" Click here for the whole article.
And don't miss the link at the bottom of the article, too. Click Here for the bit about the Rome costumes and another photo. Here's a snippit: "Regarding Antony's gorgeous wolf-skins, James Purefoy keeps them in his bedroom as a sexy bed warmer. He also has Antony's black armor and a slave dress for his girlfriend. " OMG!!! His girlfriend is ... ohhh she's just too lucky! How adorable is James!!! sighhhh
• August 4, 2007 - James at the Rome release party! CUUUTE!

He's so sassy! :P
WireImage.com & GettyImages.com Thanks Claudia!!! You Rock!
• August 1, 2007 - James in Rough!
From alchemy.tv "Following a trail of greed and obsession, this powerful mini-series traces the international web that brings us diamonds - the world's purest and most dazzling of gems. From the most fashionable enclaves of London and Cape Town to the war ravaged villages of Sierra Leone, "Rough" takes television viewers inside the glamorous – and often dangerous and illegal – diamond industry."
Thanks Genny for letting us know official word was released on this! Can't wait!!!
• July 20, 2007 - If only we had our way: This is who we would nominate for Emmys (ah, it's but a dream)
inRich.com says: "...For best actor in a drama: James Purefoy in HBO's "Rome" because he made a historical figure -- Mark Antony -- the rowdiest, craziest dude on TV, which is all the more impressive when you consider that Denis Leary also has a series."
Of course we totally agree! We are extremely miffed and disappointed that James (or any of the other actors on Rome) was not recognized. Appalling, but this often happens with the greatest of talents both in acting and music getting snubbed here in the US.
• July 19, 2007 - James Purefoy leads male admirers at Imogen's
book party "There was no mistaking the blonde author's delight as she posed for pictures with handsome Somerset-born thesp James Purefoy." Click here for the full article. Thanks Hollis for sending us this link! :D
Visit http://editorial.gettyimages.com/Editorial/Editorial.aspx and type in his name for lots more LOVELY images from this event! Thanks Holly!! :D
• July 14, 2007 - Of course we hope James gets nominated for his portrayal of Mark Antony! Here is an article from StarTribune.com that mentions James as a favorite.
...James Purefoy, "Rome" (HBO): The year's best series provided a glorious platform for this English gladiator who portrayed Marc Antony as, at first, the meanest warrior this side of "Deadwood" and, eventually, as a drug-addled reject of Andy Warhol's Factory. Friends, Romans, countrymen, lend him your prayers.
http://www.startribune.com/459/story/1299830.html
• July 13, 2007 - First bit about Frankenstein out this fall in the UK!
C21Media.net: ...Mary Shelley's classic horror Frankenstein will also be given a new twist, with Frankenstein re-born in the 21st Century as a female biologist. The drama stars Helen McCory and James Purefoy. Click here for the full article.
• July 3, 2007 - Emmy Nods Leaked Online Aha, it looks like Rome is on the list for best drama in the list. Here's a link: www.reuters.com
Thanks so much, Kimberly, for letting us know about this! We SERIOUSLY hope James gets recognized for best actor! If not, it will be just WRONG!
• June 26, 2007 - James on FiveLive DailyMayo podcast Thanks Holly for sending us the link. Great interview! LOVE James' American guy impression! LOL!
• June 16, 2007 - James on BBC Radio Johnathon Ross
http://www.bbc.co.uk/radio2/shows/ross/
• June 5, 2007 - BBC 2 has promo clips for Rome
Supposedly there is a lot of James in these. Hopefully you can view them. For some reason some people get an error, but we wanted to post this for those who can see them.
Here's the link: http://www.bbc.co.uk/bbctwo/noise/?programme=rome Thanx again to Holly!
• June 2, 2007 - James attends a cancer charity
fundraising dinner and party at Hampton court Palace
James and his girlfriend attend the fundraiser for Raisa Gorbachev Foundation. Photos are at gettyimages. (if James' images don't come up via this link, just type his name into their search to see his images) Thank you so much Holly for the head's up!
• May 18, 2007 - UPDATE: The BBC Somerset Short Story
Competition James reading Chapter 3 of RAW is now up on the BBC Somerset website!
Here's the link! Enjoy!!
http://www.bbc.co.uk/somerset/content/articles/2006/09/11/raw...
• May 16, 2006 - James images galore and an appearance at the CLIC Sargent bigo event: Holly comes through for us again! Girl, you ROCK! :D
Dafydd Jones images here
WireImage CLIC event images here.
• May 15, 2006 - It's official! James will be starring in I Hate Valentines Day!: YES! We knew this would happen, but it's great to hear it is official!
Click here for the latest: http://www.canmag.com/nw. And we can't help but respond to the article's mention of "prosthetics" on Rome... HA! We all know no "enhancements" were necessary for our boy! WOOOF! :P
• May 10, 2006 - James makes an appearance at Gerrard Colour & Cocktails party:You can see a tiny little photo of him from the event here: http://www.wireimage.com. Thanks again to Holly for posting this. :)
• May 12, 2006 - The Female Dr. Frankenstein:A bit more about Frankenstein on The Sun website. It looks like Lindsay Duncan (Servilia from Rome) will also be part of the cast. :D
• I Hate Valentines Day: Well, my sentiments exactly! HAHA! James is in negotiations to star in this romantic comedy to be filmed in Canada. Thanks soooo much Holly for emailing us about this. It sounds like it's going to be a lovely role for James!
Visit TheHollywoodReporter for a full write up. Here's an excerpt:
"He's mischievous and dirty on the phone, so he's a joy to write for," Vardalos said about Purefoy. "The part was written for an American guy in mind, but I'm now revamping the script to make it about a British guy who doesn't understand the ways of American women." Oh, oh, oh dear... mischievous and dirty... THUD! God we just LOVE this man! ;)
• James listed on IMDB as part of the cast of Frankenstein!: This is a UK television production that is currently in pre-production. Supposedly there is a brief writeup in The Guardian. We have reposted the article here and wish to thank Holly for posting this on JamesPurefoy2 Yahoo group!
Thursday September 28, 2006
MediaGuardian.co.uk

The creator of critically acclaimed medical drama Bodies and the producer behind Walking With Dinosaurs are teaming up to develop a contemporary version of Mary Shelley's Frankenstein for ITV1. Jed Mercurio, the writer responsible for Bodies and Cardiac Arrest, is
working on a script for a two-hour drama retelling Shelley's original story in a 21st century setting, with the monster created using modern-day genetic technology.

Mercurio is expected to draw on his experiences as an NHS doctor, as he did previously for Bodies and Cardiac Arrest. Frankenstein's monster will be played by an actor, yet to be cast, but their performance will be augmented by computer-generated special effects. A recent example of this technique was seen in Pirates of the Caribbean 2: Dead Man's Chest, in which Bill Nighy's Davy Jones had a beard made out of tentacles.

ITV1's Frankenstein is being made by Impossible Pictures, the independent production company set up by Tim Haines after he left the BBC, where he oversaw projects combining CGI effects and live action, including Walking With Dinosaurs.

Mr Haines will executive produce the Frankenstein project. "With modern genetic and transgenic technology, the Frankenstein story is even more relevant today than ever and there is perhaps no better writer to tackle this than Jed," he said. The ITV controller of network drama, Laura Mackie, who commissioned the script, said: "Frankenstein is a universal and enduring story that lends itself to a contemporary adaptation. Jed has come up with a fascinating new take on a familiar title."
• May 6 , 2007: Nice reviews of Beau Brummell - Don't Miss it on BBCA!!!:
Ken's TV picks
Short takes - (scroll down to see the brief review)
• May 5 , 2007: THE SATURDAY LIST! Free Press critics' picks for this weekend: Say hello to the original Suit Boy. The name's Beau Brummell, the game's dandified fashion. And as the witty, bittersweet tale unfolds in "Beau Brummell: This Charming Man" at 8 p.m. Sunday on BBC America, we soon discover that for party hearty Beau Brummell (James Purefoy, "Rome"), impeccable taste is not always accompanied by impeccable judgment. The well-connected style icon of late 18th- and early 19th-Century London essentially invented the modern suit, persuading his pal the Prince of Wales (Hugh Bonneville) to ditch the Regency Fop look of powdered wigs, painted faces and brightly colored jackets for a more finely tailored, streamlined look. Alas, the impertinent Brummell also pursued the debauched high life with his buddy Lord Byron (Matthew Rhys, "Brothers & Sisters"), which besmirched his reputation with unfashionable hedonist excesses. Oh, tacky, tacky. - Mike Duffy, Free Press TV critic
• April 29 , 2007: Nice article with Kevin McKidd about Rome:
We love Kevin too, so wanted to share this link here. He mentions James in the article briefly. Enjoy!
Excerpt:
...Love scenes are never easy for the actors to act out, admits McKidd. He feels especially sorry for James Purefoy, who plays the womanising Mark Antony.
"Poor James. At one point he said, 'I'm so sick of having to take my f***ing clothes off every episode!'" Click Here for full article.
• April 26, 2007: James participates in MacMillan's Cancer Support "Pin Ups" campaign to help people living with cancer.
Click the link above to see James tiny snapshot as well as other UK celebs also taking part. If you live in the UK, you can also participate yourself. I looked it over to see if we can from here, but I'm not sure there's a way. You can always donate from anywhere in the world by clicking "Other Ways to Give" below.

UK Donations
Other Ways to Give
• Beau Brummell: This Charming Man on US TV!!!
Don't miss one of James' most wonderful and steamy performances!! Set your timers... mark your calendars. BBC America - Sunday, May 6th - 8-9:30 pm EST.
• Thanks Claudia for pointing us to these 3 lovely photos of James at www.tobymerritt.co.uk!! Click #1, #18 and #19. :)
• April 15, 2007 - GentryStyle.com posted an article about Beau Brummell style and featured our little Wonderful Beau video! Yayyy!


This is our updated version of the video with better picture and sound!
• April 2, 2007 - Manchild A No Go... Well, it looks like Manchild was not picked up by Showtime. Of course James has other projects on the horizon and as soon as we learn any details about those we will post them here. Don't be disheartened, we feel James can do much better than what Manchild had to offer, though we would have LOVED to see him every week on TV again, SIGH. Can't wait to hear what else is coming up!!
• Times Online has a great interview with James! He's right on target
Actor James Purefoy, 42, cuts a dash on screen but he's really a home-lover with a passion for pasta. Click Here for full interview. What a loooverly pic! :D
• James makes an appearance at Almedia Theater Fund Raising Event
Click here for more. Thanks Holly!
Don't miss Getty Images from that night, too!! Yummers!! ;)
• The BBC Somerset Short Story Competition has come to a close. They are currently organizing the publication of the book, as well as the audio side of the competition. Keep checking back on the page for a date for when you'll be able to listen to the story on our radio station. www.bbc.co.uk/somerset/raw. Sadly this is UK only. I hope we can find someone to record it so we can get a copy. Please, if you're willing to do this, e-mail us and let us know.
• March 23st - All Hail Rome - End of a Great Series: Very nice article with well-deserved praise for our wonderful boy!
"...The acting is superb. Special kudos go to James Purefoy, whose portrayal of the troubled, drug-addled, lustful Mark Antony is a deeper, darker version of Joaquin Phoenix's Commodus in Gladiator." Click Here to read the full article!
• March 21st - James Plays Dracula in Dr. Who Audio Series! YAY!!:
Thank you so much, Lynne, for turning us on to this! We can't wait!!!
Dr. Who New Audio Adventures
"Son of the Dragon"
Starring James as Dracula. This is just TOO cool!!! We are huge Dr. Who and Dracula fans, so needless to say we are extremely jazzed about this!!
Click here pre-order your Double-CD set to be released in September!
• March 1, 2007 James attends the stage performance Whip it Up:
If you're not on Mac, you can view the video below the article. Thanks to Kelly for bringing this to our attention and to Patri for this cap from the video.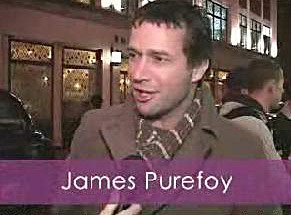 Click here to go to article and video.
• February 10, 2007 James and his girlfriend attended the BAFTAS:
I wonder if he will present? We'll record it just in case. :D Thanks to our pal Teresa for the heads up!
• February 8, 2007 James and his girlfriend attended:
The Awards Of The London Film Critics Circle (ALFS). You can see the image below at GettyImages.com.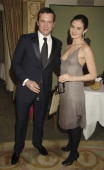 • Natural Justice Update February 9, 2007:
According to a source at Piper Films who graciously answered our query about the status of Natural Justice, we have learned that James' role is being recast. Of course we are saddened and disappointed to learn this, but we also know that James will be moving on to do many wonderful things! Thanks to Piper Films for taking the time to keep us up to date.
Now, we are waiting to hear the status of Manchild! And of course any and all new projects coming up for our boy! In the meantime, we hope to see more Mark Antony than we got in last week's episode of Rome! Come on, guys... we need a substantial weekly fix of our haughty and oh so naughty Roman general! ;)
• NEW BBC Somerset Interview with James on Rome Season II.
Ahhh, we could listen to James talk all day long. His lovely voice. The way he expresses things! Wonderful!!! xo
• Goose on the Loose website updates, but still no release date. Sheesh!
Come on guys, get with the program and give us some clue of when we'll get to see this! And James isn't in the updated preview, Grrrrr!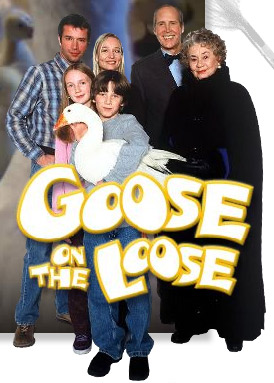 • Getty Images of James at Burns Night Party Jan. 25, 2007!
Nice coat!
• January 26, 2007: Mark Antony HUGE in Time's Square!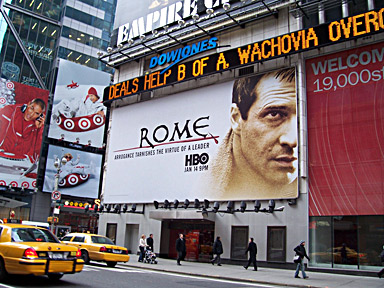 Claudia shot this great pic of the massive ad in Times Square. Delish!! Oh YES! Thanks hon! It is located between 43rd and Broadway and may not be up much longer so if you can get there to see it in person, go SOON! You can click on the image to see a larger / closer view.
• January 9, 2007: PUREFOY LOVES HIS CRAGGY 'FIELD' FACE
(And so do WE though we feel that is a bit of an exaggerated description!!)

"Dashing British actor JAMES PUREFOY refuses to sign up for plastic surgery to keep his leading man looks intact - because he wants to appear rugged and craggy as he ages." Oh thank GOD! Just the mere thought of our boy even considering plastic surgery would be so horrifying it's unthinkable!! He has true beauty and every line, every little sign of age on him is like fine art! Click Here to read the whole bit.
The New Yorker - Power Play Rome Returns to HBO
"First to stake his claim is Mark Antony (James Purefoy). Antony is an ill-tempered sot, but you have to admire his balls, if only because he waves them about so in repeated nude scenes. Seeking to bully Cicero (an exquisitely diffident David Bamber), the conscience of the Senate, into proposing that he govern Gaul, Antony sits his reluctant ally down. Then he approaches, menacingly parts his tunic—and urinates onto a nearby plant.

CICERO (shrinking away): The Senate would know I was backing you only through—through fear of death.
ANTONY: Oh . . . (mock dawning comprehension) Oh, I understand. You do not want to seem cowardly. Well, tell them I bribed you." Click Here to read the entire review!

• January 8, 2007: Purefoy Refuses to Get Naked for Rome Directors "There were directors who were disappointed that I didn't get buck-naked... I would just go, 'Why? Tell me the reason...." Read the full article here.
Ok, yes, we agree with James reasons for his refusal, but still we are selfish and will miss seeing Mark strutting around toga-less. :P
And there is also this nice quite from James about the whole V for Vendetta situation. We feel for ya, James:"That was a bit of a debacle. I don't really want to talk about it. We all promised that it was best left that we had creative differences. Sadly, some people since have broken that promise, but I'm a gentleman." British actor James Purefoy on leaving the comic book adaptation V For Vendetta. 08/01/2007 20:09
And The Guardian UK has an interview with James about Rome!
Excerpt from When in Rome:
"The more I read about [Mark Antony], the more I looked into him in history, he's just unbelievably tragic - what happened to him in the end - and certainly the way we've played it, which is, I think, going to be very different from how anybody else has ever... Those scenes, especially him and Cleopatra at the end, there's clearly something very tragic about it. It's really interesting just getting your head around a man of that size and what he's reduced to, and how he can deal with her betrayal of him... And, you know, a great Roman general who sincerely believed he was a sun god. Get your head round that one," says Purefoy...
Click here for full article
• December 23, 2006: Manchild has wrapped!
According to Kevin Smith on his latest blog, Manchild wrapped sometime last week, so our lovely man has probably returned to London for Christmas with family and friends. We believe his next project will be Natural Justice, which is supposed to start filming in January. We hope that maybe, possibly, in 2007 year he will do some stage work! We would have to make time in our busy schedules to get over there to enjoy him on stage, and MAYBE even get to meet him... <<beg>>
• The NEW January Issue of Out magazine has our boy on the cover!
...and talk about WOW! That look... I'm feeling... a bit.... light-headed... THUD!
FYI, Barnes and Noble carries this magazine! We now have nice scans from this in your Magazines Gallery! Purrrrrrr! :P
Click here for full article in Spanish! Thank you Patri for all of your HARD work! Once the magazine is off the stands, we will post the full English version.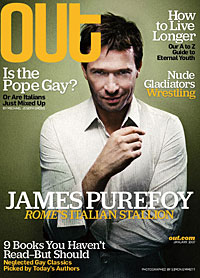 • Rome Episode 13 News
Click here to read the synopsis of Ep #13 "Passover"the first episode of season 2! YAY!
• GORGEOUS Mark Antony Ad in Premiere Magazine!

Click image for a nice large scan!
We just got our Premiere mag and flipped all the way through until BAM - we hit the inside back cover and Woo Hoo... Mark Antony all lovely and intense!
• Goose on the Loose
Soooo, it seems we are going to have to wait until Dec. 2007 for this film that wrapped back in 2002! Sheesh, what is the deal with this movie. I'm seeing '07 on all but the IMDB site for this. Click here for some basic stock info. Also, we were turned onto an Italian site that is selling the DVD, but you have to have an Italian "tax ID number" to order. Unfortunately, we don't know anyone in Italy to order for us. Phooey! Well, patience is a virtue - :) Oh, and while you're there, you may want to check out James' actor stock info. Hmmmm.
• Rome videos - ok, so we're a little late on this, sorry - we were out of town...
**thanks to LadyPurefoy for turning us on to these new updates**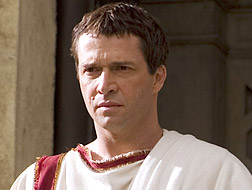 Visit HBO's website for clips from the new season of Rome. Good Lord, the Mark Antony vid and the Atia vid, YUMMY to see Marco in action again. SWOON! New eps start Jan 14, 9pm EST! We can't wait! Lots of updates to the HBO site! Goooo!
• Manchild pilot currently being filmed - Surf's Up!
Thank you "pdsbkup" from James Purefoy 2 Yahoo group for this tidbit: Kevin Smith was on the Craig Ferguson show last evening and he mentioned they were filming the pilot - Manchild. In the opening scene the 4 actors (including James) are surfing in the Pacific Ocean! ~good lord! I would have melted away into a puddle of joy if I could have been there for that!
• November 30, 2006: Temptation, Torment & Retribution Rule Season Two of HBO's Rome
News courtesy of CNW Group - NewsWire.ca
Premiering on The Movie Network and Movie Central on Sunday, January 14
at 9 p.m. ET/ 8 p.m. PT

TORONTO, Nov. 30 /CNW/ - Astral Media's The Movie Network (eastern Canada) and Corus Entertainment's Movie Central (western Canada) present the exclusive Canadian premiere of the second season of the Emmy(R) Award-winning epic drama series, Rome, debuting day-and-date with HBO on Sunday, January 14 at 9 p.m. ET on The Movie Network and 8 p.m. PT on Movie Central. Season two begins in a frantic rush for position and power by political and personal factions triggered by Gaius Julius Caesar's assassination in 44 BC. Caesar's bodyguard, Lucius Vorenus descends into near-madness over his failure to protect his charge, but Titus Pullo soon returns to Rome to help him put his shattered life back together. Mark Antony aligns himself with Atia and her son Gaius Octavian, appointed in Caesar's will as his son and heir, while Cleopatra arrives to pay respect to her fallen lover and win legitimacy for the son she claims Caesar fathered. Brutus and his mother Servilia ponder how to curry favour with the pro-Caesar masses... (Click here for full article)
• Natural Justice
Thanks Aurianne for letting us know the dates for James' upcoming film Natural Justice. It will begin filming in January and will be shot in London and Budapest.
• NEW Rome Posters posted here!
And here is Mark Antony's poster. Yummy!! Click here for a version without words over his lovely face! :D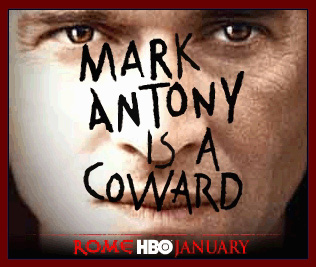 • James Chairty Contributions!
Thanks to our lovely friend Lady Purefoy, we now have news of some of James charity participation:
http://www.justgiving.com/tomhollander
http://www.corporate-responsibility.org/module_images/AA%20open%20letter.pdf
• Rome Wrapped on Friday: Nov. 10, 2006
According to HBO's "Rome Historian's" blog, Rome has wrapped. So, James will be back in London spending quality dad time with his son for about a month or so. Next for him should be Natural Justice then Manchild I assume. Thanks to our good pal Shelia for alerting us to this latest news. :D
• Showtime's men: Smith and Purefoy - Hollywood Reporter: Nov. 09, 2006
Kevin Smith and James Purefoy have been tapped to star in the Showtime comedy pilot "Manchild," from Darren Star Prods. and Sony Pictures TV.
"Manchild," based on the BBC series, revolves around a group of fortysomething male friends (Smith, Purefoy, John Corbett, Paul Hipp) who are knee-deep in midlife crises.
Smith will play Paul, the cynic of the group, an angry divorced guy who loathes himself, his ex and his ex's perfect new husband.
British actor Purefoy will play Joe, the ad hoc leader of his circle of pals. He is attractive, polished, virile and wealthy, goes to the hottest new clubs and doesn't date anyone over 25... Click here for the whole article. at the Hollywood Reporter.
- The above article gives the final word on the final season of Rome, too. :(

• James is currently filming the second season of Rome - and their almost finished. Click here to view the Mark Antony segment from the HBO preview. After that, in Jan, he'll be filming Natural Justice in the London area. There is new casting info on the Piper Films site. They waited for James, because they felt he was so perfect for the role they didn't want to recast. Very cool! I sure hope it gets released here in the US! But seeing the director's list of previous films, only released in the UK, doesn't give me much hope of getting to see it here on the big screen. Most likely we'll have to wait fo the DVD in 2008. :(
'Blackbeard' The Stage TV Review
By HARRY VENNING
18-SEPT-06
Edward Teach was a cut above your average pirate captain. Intelligent, erudite, charismatic and bold, Teach also displayed a flair for publicity that Max Clifford could learn from. With one eye firmly fixed on posterity, he ensured that his every entrance was theatrical, his appearance was spectacular and his exploits never less than sensational. Without the help of a PR agency, focus groups or market research he also acquired a terrific pirate brand name instantly recognisable on both sides of the Atlantic - Blackbeard...
Click here for full article...
• 'Rome' DVD set has abundant bonus features
By BRUCE DANCIS
Sacramento Bee
15-AUG-06
"Rome," the ambitious HBO/BBC coproduction that combines historical realism with soap opera relationships, has been released in a DVD set which matches in grandeur both the production and its subject. The complete first season, a 12-episode tale of ancient Rome in the era of Gaius Julius Caesar, is packaged in an elegant six-disc DVD box (HBO Video, $99.98, TV-MA) with an abundant 20 hours of bonus features and interactive guides.
Click here for full article...
• Coming Soon to Theaters
Goose on the Loose (Sometime in Dec.): http://www.imdb.com/title...
You can also click here for the official Goose website!
Natural Justice - though I believe this will only be released in the UK. :(
You can read the synopsis, cast list and latest news here.

We have decided to simply link to the TVNow.com schedule for James instead of updating here every few days. That way you will always get the most up to date info on when he's on the tube.
Go To News Archive for older news...