This is the LAST JP Journal Entry to be posted here: Jan. 30, 2010
Now that I've started a blog for this site over at Wordpress, all future entries will be entered there so that visitors can comment and more easily share if they want to. Below will start the archive for the JP Journal and older posts, prior to March 2009, can be found here.
Journal Entry: Jan. 26, 2010
Wow, ok, so I've been spending the past few weeks working my tail off on the new JP.us site. It's been an incredible uphill climb and an intense and often tear-inducing, frustrating series of learning curves. But, it's nearly done. Just today, I found something that worked perfectly in one browser but didn't work in another. GOD I HATE it when that happens. So, in fighting with that I thought I'd found a solution, only to run into a most baffling and senseless different problem that there seems to be no solution to. Sigh...
So, I have been planning on going live with the brand spanking new site this Friday. Let me be perfectly clear here. This is NOT like the other site revamps I've done. This is an entirely NEW and completely restructured web site. Image locations and full pages have all changed. If fans have imbedded or linked to things on the site those links will have to be repaired. But it was so necessary to do this. In having to migrate all of my sites to the new Dreamweaver CS4, which requires knowledge of CSS among other things like Spry and Java, I could not put off my education any longer.
Nearly all of the work I've done myself. But I've had indispensable and wonderful assistance from my friends Fabian and Bart, and I've spent a good amount of time on Lynda.com gaining a foundation of knowledge to work with. I'm still learning, will always be, since web design is ever evolving, but at least I'm not entirely lost in code anymore. I "get it" and it doesn't terrify me like it used to. LOL
I hope to be able to keep my plan to go live on Friday. I hope everyone really likes the new site. I hope it's easier to navigate, smarter, cleaner, and entirely appealing for all of you who have been so sweet and encouraging and who make this endeavor so worth the time and effort. And most of all I hope James likes it. :)
Journal Entry: Dec. 30, 2009
It's been fabulous seeing all of the Solomon Kane stuff coming out for Spain and France these past few weeks. Been difficult keeping up with all of my other responsibilities at work and personally, but doing the best I can. About to burst here waiting for that most excellent US release date news to come out. UGH! It had better be SOON!
I am aiming to have the new revamp of this website done before the end of Jan. Man, I hope I can pull it off. Learning brand new skills is making it harder and more frustrating than the previous updates, but in the end it will be well worth it. Right now the site is so jumbled up, cluttered and not very user friendly, but with the plan I have I hope to make it trip, sleek, and smart while not losing any content. We'll see how it goes. :)
Best wishes to everyone who visits here for a wonderful New Year! Thanks for all of your support and encouragement. James has the most awesome fans on the planet!!
Journal Entry: Dec. 6, 2009
I figured I'd post the link here to the latest JamesPurefoyOnline blog. It's just showcasing some digital paintings I did of the Edgar Rice Burroughs characters I've read about, including Kantos Kan, the character James will be playing in the John Carter of Mars film. Here's the link...
http://jamespurefoyus.wordpress.com/?p=22
And here's the painting of James ad Kantos. I'm not completely happy with it, but it's not too bad. :)
Journal Entry: Nov. 26, 2009
Marie, one of James most devoted fans, recently got a reply to her letter. James also sent her a lovely signed photo that she was kind enough to share here on the website. Thanks Marie and congratulations! :)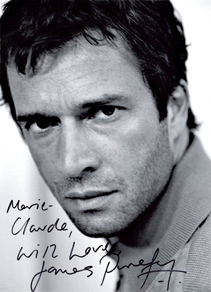 Journal Entry: Sept 21, 2009
My stars, it's been so hard getting back into the swing of regular life after that UK trip. Two weeks of utter joy and fun, capped off with meeting our fave man (ok, after dad) on the planet... and them BAM! Back home, playing catchup at work, getting the brain to function properly and remember how to live life as we're used to. LOL! But as daft as we've been over the past few weeks since returning, we are somehow making it through.
So happy to have gotten a hold of a few new James things to post on the site. Loving the TIFF reviews and recaps. Hoping Michael Bassett's trip to LA after TIFF means there was interest and something will materialize with the right studio... and soon... we wiill hear the good news of Kane release dates here in the US. :)
James will start filiming Ironclad in early October. We are all looking forward to that one and hope it goes very well for him and the cast and crew. ~Nada
We met the Magnificent James Purefoy in London - 9.4.2009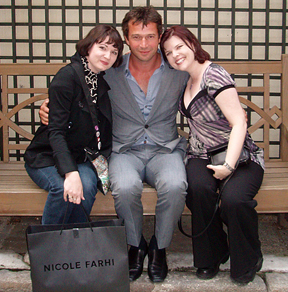 While we were in London for a few days, we hoped, God willing, that being the JP.us girls, would give us enough clout to work out a way to meet James in person, if he was in town. And WOO HOO it happened!
James had a meeting at a hotel in central London and we were able to catch him for a few, very brief moments beforehand. Let me tell ya, no photo or video of James comes remotely close to catching his incredible radiance in person! He was so full of energy, so enthusiastic, so funny and warm and just beyond adorable! We could not have imagined him to be more darling than he was…
We joked and laughed with him. Flirted like mad and oh yes, we made him blush! SCORE! lol
He thanked us so very sweetly for doing the site and gave each of us signed posters of Kane and expressed his confidence that those of us in the US shouldn't worry about it getting released here. He has no worries and that definitely set our minds at ease. He starts filming Ironclad in October and spoke briefly about that, too. He hinted at other projects coming up but didn't give any details. Hope to hear more about those in the news soon, though. ;)
Nettie and I are still flabbergasted over the meeting! James simply glows! He's not only the handsomest man on the freakin' planet… oh no... he's positively glistening with personality and inspiration and kindness. He gave us such nice long hugs and kissing those scruffy cheeks was DIVINE! He smelled of faint cologne (though I would have preferred a bit more perspiration and a whiff of his natural musk, which I told him, actually – a moment of blushing promptly followed – God I LOVE it when he blushes - oh yes!! RAWR!).
Our only complaint was that the encounter was so darn short! But of course, no length of time, even if we'd had hours instead of minutes, would have satisfied me. James is a delight to be around and we just can't say enough good about him and his blissfully searing energy! He lit up everything around us and now I wish with all my heart that we could meet up and hang out with him at our leisure. Needless to say, we REEAALLYYY MISS HIM NOW!! Sighhh…
I am so grateful that Nettie and I watched Blackbeard and searched James out afterwards… that I decided to create his website, that we wrote him that first letter to express our sincere admiration, and that we had this hopefully-not-once-in-a-lifetime chance to bask in his unparalleled loveliness. I can tell you this, James is 100,000% worth all of the hard work and effort it takes to keep the site going and the news current—keep the galleries filled and all of his fabulous fans informed and satisfied.
We hope this thrill doesn't leave us with time. It already feels like it's been forever since we looked into those dark, shining eyes and gazed longingly at that sensual mouth of his! You can certainly see in the photo how utterly filled with GLEE I am! ROTF!! Yep, I was so far beyond cloud nine I have no clue how I survived it!
Thank you, thank you, thank you, James! We love you SO much! xo
Journal Entry: August 4, 2009
Man oh man it has been pretty darn exciting post the San Diego Comic Con! Tons of images, video clips of the panel, and the initial aching for a Kane trailer finally satisfied in the form of a jumpy, bad-sound version leaking on the web. And, well, despite the bad recording, Nettie and I were totally blown away! OMG! It's truly stunning, which obviously means when we get to see the final version, hopefully in the next couple of weeks (BEG) it will be breathtaking! I've said it before and I'll say it again, seeing James in that role is going to devastate me, to be sure! He's kind of like a blend of Blackie and Mark Antony plus MORE!!! He's rough, rugged, primal, mucky, clad in leather with swords and a nice big gun!! HAHAHA! And that man wears that puritan hat so very, very well! ;)
But beyond the typical gushing over the darling Mr. Purefoy we LOVE the cinematography, the sets, the costumes, the creature creations, the music, the cuts and editing… the WHOLE shebang-bang!! Mr. Bassett has quite an eye and that is no surprise hearing what inspired him to become a filmmaker in the first place. His favorite films are precisely the same as mine so the excitement and mad anticipation is certainly palpable around this household. So… we are pleading with the Universe… C'mon with that GOOD NEWS - Kane to be released in US theaters on XX date!!! Gimme gimme gimme!!! :D
Journal Entry: July 25, 2009
Philanthropist, Ep 5: Kosovo was just so marvelous! It was the best ep so far. We were moved deeply by the story and quite liked that there was no 'look what a manslut Teddy is' scene in there. Not that seeing Teddy being sexy isn't fun to watch in itself. LOL! But Kosovo kept a certain warmth throughout that was missing during some parts of previous episodes. Of course, we do realize that the show is portraying growth on Teddy's part, so we can't complain too much about it. :) Oh, and we loved the little blog about that episode that James wrote on NBC.com. Here's the link if you haven't read it yet:
http://www.conan.com/invboard/index.php?showtopic=4156&st=940
We hope NBC will move forward with the series. We've gotten great feedback from fans, both old and new. Thanks to all of the buss about the show that I've made sure to share among friends and family, there are many who have grown to love the show and want to see more. With all of the same old stuff on network TV these days, it would be nice to see The Philanthropist continue, grow, and spread it's positive message.
Comic Con is this very weekend, as you all know! James and Michael Bassett are presenting a preview for Kane and scenes and boy oh boy I'm dying here with envy for those getting to be there. I hope it goes so well that very soon we get to see the trailer online and start hearing more buss and release dates are set!! Wish we could go to Toronto Film Festival, but we are taking a big trip end of August that will sap our funds and use up our vacation time at work. So we're just stuck waiting to experience Kane when it finally gets released worldwide. Patience is a virtue, I keep reminding myself. :)
Journal Entry: July 11, 2009
We are so proud of James with his involvement in various charities these days, He's becoming quite the philanthropist himself. I know it's going to be so enriching to his life. What incredible opportunities! :)
I'll do my very best to keep up with things here. There's so much news lately and with all I have going on otherwise, sometimes I may be a day or two late getting everything up. Unfortunately, I'm not a homemaker or a youngin' with oodles of time online to do website stuff. I am on the computer a lot, but with commissioned art projects, my regular job, and writing I am often just utterly swamped. This site means so much to me and I want to always be available to help promote James and take good care of his growing throng of fans. I will do the very best I can and thank all of you for your patience and understanding. Nada
Journal Entry: July 2, 2009
Well, as I suspected, Nettie and I absolutely LOVED the second ep of The Philanthropist! It felt a bit like a roller coaster ride following Teddy through his adventures and grabbed us throughout a bit stronger than the pilot did, though both were good in their own rights. But how fab is James!! I tell ya, getting to see him in action in something new so often is quite exhilarating and... as also I suspected, brand spankin' NEW fans are turning up, realizing how utterly marvelous Mr. Purefoy is. Yes-sireee-bob! The man is Da' Bomb! ;) Now it's another week to wait... and we can hardly stand it. :P
Journal Entry: June 25, 2009
James was so powerful as Teddy Rist in The Philanthropist last night, that Nettie and I can still "feel" him today. Most certainly, the power of the show was James performance. As he's amazed so many before with his ability to become the character he plays, James metamorphosis into Teddy as completely as he's done before in roles like Mark Antony, Blackbeard, and others. Yes, I may be biased, but the success of this show will be due to James compelling performance, his unique ways, and his passion, so evident in every scene. He's well supported and the show overall has very high promise. What compels me the most about it, after James of course, is experiencing the growth and change Teddy Rist will certainly go through. His evolution promises to be heartwarming and touching. I do enjoy a flawed hero, but there is plenty of room for Teddy to "mature" in ways he obviously hasn't yet due to such a pampered lifestyle. Seeing the emotion in his eyes as he moved through experiences ranging the full gambit just in episode one was wonderful. And not a simple thing for an actor to accomplish so completely as James did. I am blown away yet again by my very favorite actor.
Journal Entry: June 24, 2009
James was just so adorable on Jimmy Fallon last night. So much energy, so enthusiastic, and SO beautiful! I've said it before and I'll say it again, I love watching James in his roles, but more so, I LOVE experiencing James just being himself... :)
Journal Entry: June 22, 2009
First, we hope James had a marvelous birthday! It's quite an exciting time since this week is the premiere of Philanthropist and that oh so darling Mr. P. is making appearances on Today Show and Jimmy Fallon, too. We've missed him quite a lot over the past months, just eager to see him in something new. Been eager and impatient for the new show, Solomon Kane, and now, finally, this is the week! Well, still NO word on Kane in the US... Man, it's got me so Grrrr not hearing anything when that movie promises to be my fave of all time. Yea, I'm a real boy-geek when it comes to movies. Give me big, fighting robots over melodrama and romance... scary demons and slayers over chick flicks any day! LOL
When the time comes to do screencaps and videos and such, I am going to be playing it safe so as not to incur any displeasure with NBC over copyright stuff. The creative juices will just need to wait until at least the first season is over and out on DVD so screencaps can be done. Not sure yet about videos or anything, since despite it being FREE advertising for these networks and production companies, and not one red cent is made off of them (spend my own hard-earned money to make them, actually) they STILL want to cause grief over it. Ah well, it's all in the perspective - skewed as they may be sometimes. Still, best to do right by all of these things so as not to cause any rifts. Want to be the ultimate support for James' work here, which is the most important thing. :)
Journal Entry: May 28, 2009
"The best part of the movie is James Purefoy, who is quite fun to watch as Lucas Denmont..."
Review from: http://www.jckonline.com/blog/870000287/post/310045031.html
We couldn't agree more! James was the high point of the entire miniseries. There were other talents in there, too, but when it came to grabbing your attention and keeping it, James owned this show. Seems we fans aren't the only ones who waited through other scenes for Lucas to come back onto the screen. :)
It's almost James' birthday. I'm planning to post a nice birthday wish for him on the home page this weekend. :D
I'm also feeling high anticipation for The Philanthropist, not only for the show, which we're all feeling so happy and excited about, but for the surge of new fans that are sure to visit the site and keeping up with it all when it happens. I'm attempting to get all remaining screen caps posted before the show starts. Prince and the Pauper, Diamonds... The rest of Coasting, so that I'm ready to handle Philanthropist stuff. But, I am going to hold off posting custom videos and caps until the season ends. I don't want to incur any wrath from NBC for posting anything. They seem quite stingy with their videos so will play it safe and careful with them.
Journal Entry: May 21, 2009
I just realized yesterday, that I am not equipped anymore to get the recordings of The Philanthropist off of my DVR so caps can get done and we can do videos and such. I'm also a bit concerned that NBC, which is blocking non-US web surfers from watching their promos, would get onto me for posting caps and/or videos while the season is underway. So, everyone may have to rely on Patri's site for caps, etc. I will play it safe and tread carefully with regards to NBC.
As soon as I have her final draft, I'll be posting Cat's full review of Solomon Kane. I've asked her to keep it spoiler-free, for those of us who want to remain "Kane virgins" until we get to see it for ourselves. ;) But, I must say, her review has got me even MORE excited to see it, if that's even possible! The way she describes James' looks and performance... Well, I'm sure to be a changed woman once I lose my "Kane virginity"! LOL
Journal Entry: March 12, 2009
***Philanthropist... June 24... WOO HOO!!!***
... ahem... ok, well goodness, it's been awhile hasn't it? I don't know if anyone really reads this, but will post here anyway. Taking a wee breakhere and wanted to pop in and give an update. I've been doing less big things for the site lately because my computer is showing its out-of-date-ness. I'm upgrading within 2 weeks and have plans to get more galleries up soon. Nettie and I have also had some new video ideas hit us, not all James vids, but some, and hope to get to creating soon. Also, I plan to do a site-wide update when James new stuff starts coming out. Solomon Kane, The Philanthropist, Etc... I think ever year or 2 it's nice to refresh the look of the site, but I'm not sure how drastic the change should be. Couple of years back I had a whole design worked up based on Rothko art, since it's a James fave... but not sure if fans would like it as much as maybe (hopefully) he would. So still playing around with ideas. Whatever I do, it will not be the typical look most sites have. I like to mix things up, be different, depart from the norm—but anyone who really knows me realizes that already. ;)
Even though I've been a bit silent as of late at the forum, let no one doubt my enthusiasm for Mr. P. and his work and this site has not waned. Both Nettie and I are still in full-adoration mode. :D Life is just very busy both personally and professionally—all good, too. Fix up and renovation around the house, business steadily booming at YES, company staying with us, and various projects in queue...
Anyway, before I proceed with site changes, I'll get some input from my James sisters and brothers over at the forum. Until then I hope you enjoy the site! ~Nada